The Rachel Carson Estuarine Reserve is part of the North Carolina National Estuarine Reserve system, which is a collection of coastal regions that have been preserved and protected to safeguard the wide variety of wildlife that these regions support.
Easy to reach for Beaufort visitors as well as vacationers staying throughout the Crystal Coast, the Rachel Carson Reserve is a scenic slice of natural landscape that will be an enticing destination for birdwatchers, kayakers, hikers, and anyone who wants to view the area from a waterfront and wild perspective.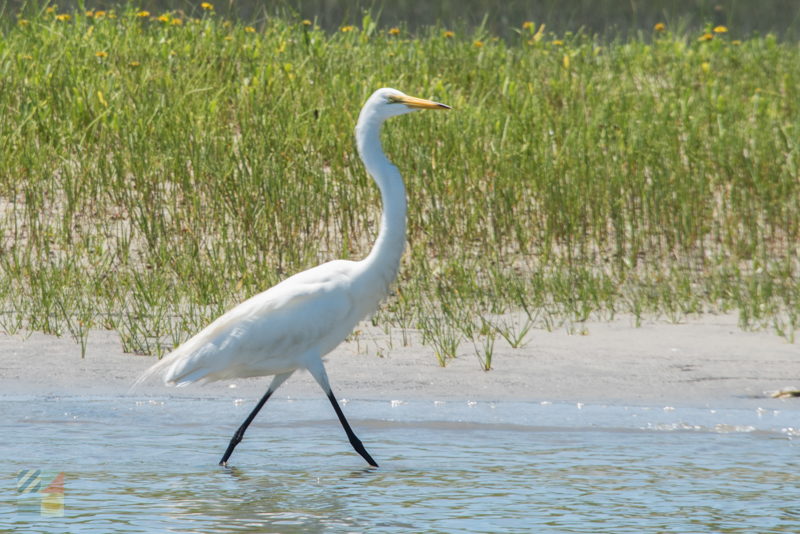 About the Rachel Carson Estuarine Reserve
The Rachel Carson Reserve includes a collection of islands, salt marshes, and surrounding water, and encompasses a total area of 2,315 acres. The complex of islands includes Carrot Island, Town Marsh, Middle Marsh, Bird Shoal, and Horse Island, and the entire site was completely acquired by the North Carolina National Estuarine Reserve system in 1989.
The reserve is situated close to Downtown Beaufort directly across Taylor's Creek, and is in between the mouths of the Newport and North Rivers, with the Back Sound serving as its southern watery border. As a result of this geography, the estuaries and islands that comprise the reserve are heavily affected by river, tide, and inlet dynamics, with some areas becoming water-logged and soggy with every incoming or outgoing tide.
The result of this unique system of water flowing to and surrounding the Rachel Carson Reserve is a mix of fresh and salt waters that in turn allows a wide variety of marine life to thrive. Juvenile fish and invertebrates can be found in the marshes and just offshore, while the local mammals can include everything from gray foxes and otters to the famed wild horses.
An array of habitats can be found within the reserve as well, which includes tidal flats, salt marshes, ocean beach, sand dunes, shrub thickets, submerged aquatic vegetation, and maritime forest. As a result, countless birds, mammals, reptiles, and fish species carve out a home on the desolate islands, and can be admired by virtually any visitor who can make the trek to the isolated series of islands.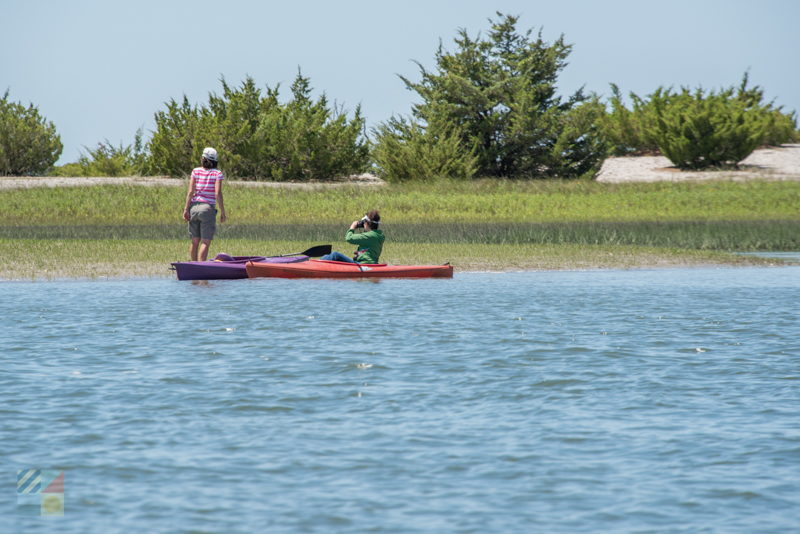 Reaching the Rachel Carson Estuarine Reserve
The only way to reach the Rachel Carson reserve is via a ferry, privately owned vessel, or a kayak / canoe, but visitors will be happy to discover that the trek is certainly not an arduous one.
A number of ferries or water taxis depart from the Downtown Beaufort waterfront along Front Street, and in the summer months, can be available at roughly 15 minute intervals for visitors who want to take a quick trip to the adjacent shoreline. The ensuing taxi ride takes about 10 minutes at the most, depending on the departure point, and typically lands at the Town Marsh area of the reserve.
In addition, there are a number of kayak launch points along Front Street, (as well as watersports companies that rent kayaks and canoes), and travelling across Taylor's Creek is an easy paddle that takes roughly 15-20 minutes, depending on where you cross, and where you land.
Visitors will also find a number of eco-tours and cruises available in a wide variety of mediums, including small vessels, larger cruise boats, and even guided kayak tours. On these adventures, visitors can tour the reserve in virtually its entirety under the guidance of an expert on a quick one hour, two hour, or even a long half-day exploration.
For visitors with a personal motorized vessel in tow, a boat ramp is located at 2370 Lennoxville Road in Beaufort, which is open to the public and which is managed by the N.C. Wildlife Resources Commission. There are roughly 30 parking spaces available, which can fill up quickly, so mariners will want to arrive early to secure a spot.
From renting a kayak and taking a quick paddle, to hopping aboard a water taxi for an ensuing 10 minute cruise across the creek, reaching the Rachel Carson Reserve is easy provided you start your exploration in the picturesque town of Beaufort.
Try to coincide your landing with the "trailhead" at the end of Town Marsh – located on the western edge of the reserve – to enjoy flat beaches and easy to access terrain once you hop ashore.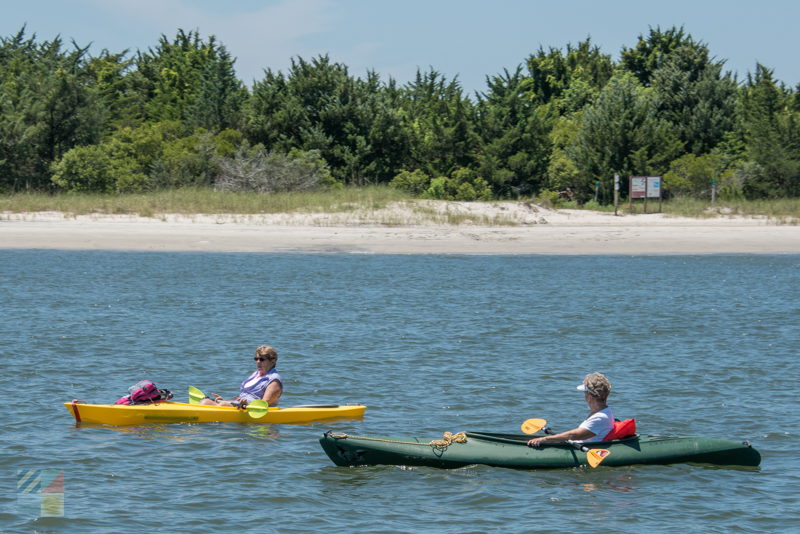 Things to do within the Rachel Carson Estuarine Reserve
Hiking – From the Town Marsh – one of the westernmost regions of the Rachel Carson Reserve – visitors can enjoy a hike through somewhat rustic terrain to explore the network of islands. A scenic boardwalk is also located at nearby Carrot Island, and trail brochures and information are located at the trailhead in the Town Marsh area. Visitors should note that the network of trails are inherently primitive, and can change with the tides, so sturdy shoes that can handle a little water will come in handy. The marshy areas can also be stocked with natural roadblocks like oyster shells, while the sandy parts can have prickly pear cactus and sand spurs, so visitors will want to use caution throughout the hike.
There are two trails within the reserve – the Outer Loop Trail which is 1.1 miles long and is only accessible at low tide, and the Inner Loop trail, which is .9 miles long and is generally accessible year-round. Follow the trail guides or markers from the Town Marsh to explore either of these routes.
Birdwatching – More than 200 species make a permanent or temporary home within the Rachel Carson Reserve, which makes it a paradise for visiting birdwatchers. With a locale along the Atlantic Migratory Flyway, and a number of observed species at the site that are considered threatened or endangered, a visitor can check off a lot of boxes on a birdwatchers' bucket list.
Look for piping plover and Wilson's plover in the winter months, egrets and heron rookery near the shrub thickets of Middle Marsh, and ibises, herons, and egrets throughout the seasons in the marshes and the slightly open sound waters. With so many species congregating in one wild locale, a camera is a must to see all the different birds at rest or play.
Wild Horses – One of the literally biggest attractions for Rachel Carson Reserve visitors is the population of wild horses that congregate along the shorelines, and which can often be spotted from vantage points all along the Beaufort waterfront. The horses were brought to the island deliberately by a local citizen in the 1940s, and became feral or "wild" over the decades as they survived by eating the local cordgrass and digging for fresh water. Visitors are advised to stay at least 50 ft. away from the horses at all times, but are welcome to snap photos from a safe distance.
Kayaking – The network of marshes that surround the Rachel Carson Reserve are perfect for paddlers, and visitors will find a network of naturally formed water trails that can be readily explored via a kayak or canoe. Head to the Middle Marshes across the North River Channel for plenty of winding marshes that are ripe for wildlife viewing, or stick close to the center of the reserve by exploring the Back Sound-bordering regions of Bird Shoal or Horse Island. No matter which direction you go, a world of relatively easy paddling grounds can be found.
Shelling – Wade just offshore in the Back Sound waters along Bird Shoal and Horse Island, and you may find some surprising find which includes a unique variety of barely-coastal seashells. Scallops, oysters, and clams regularly make appearances here, and visitors may also be able to spot more ornate species like marsh periwinkles as well. Just be sure and make sure your shell is unoccupied - a number of hermit crabs call the Rachel Carson Reserve home.
Educational Programs – Rachel Carson Reserve hosts a number of educational programs throughout the year aimed towards school field trips, kids' day camps, and everyday visitors alike. From guided visits to unique habitats to educational talks on the local bottlenose dolphins and sea turtles that pay the reserve a visit, there's a lot to discover with a little help. The headquarters for the reserve is located in the town of Beaufort on 101 Pivers Island Road, and is a good place to start to find out what programs coincide with a Crystal Coast vacation.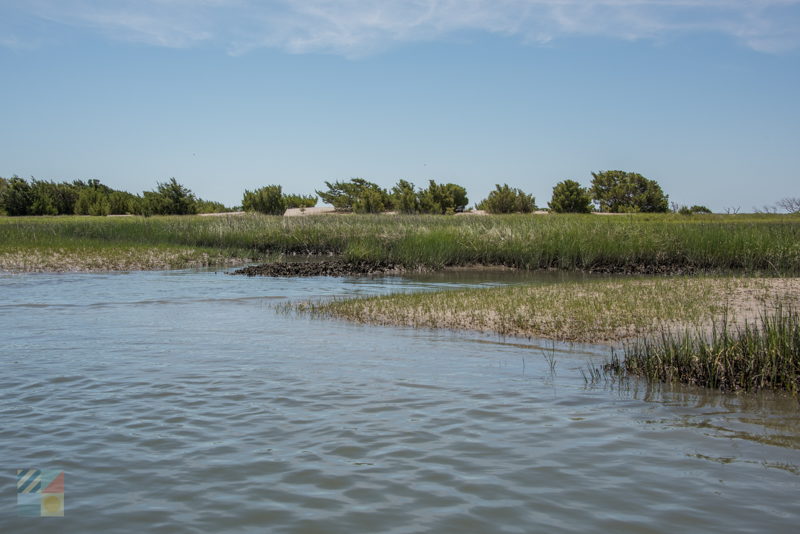 Tips for Visiting the Rachel Carson Estuarine Reserve
Bug spray is a must! The local mosquitos don't see many humans and can be very thick during the summer months.
The marshes are home to a wide variety of critters, which can on occasion include poisonous snakes. Be wary of cottonmouths and other dangerous species which may be spotted close to the marshes.
There are no restrooms, water fountains, or facilities of any kind on the reserve. So be sure and bring along water, snacks, and anything you need for the ensuing trip.
Pets are allowed within the Rachel Carson Reserve, but must be leashed at all times. Visitors are also asked to clean up after their dogs throughout their trip.
Camping, fires, and littering are all prohibited on the reserve – (and there are no trash cans on the site.) Being an extra bag or two with you to take out any trash as needed.
The Rachel Carson Estuarine Reserve is a scenic destination for visitors who want to sample a natural slice of life on the Crystal Coast. Brimming with wildlife and beautiful scenery, this easy-to-reach deserted island is a great destination for sightseers, birdwatchers, horse fans, photographers, and everyone who adores a great on-the-water view.